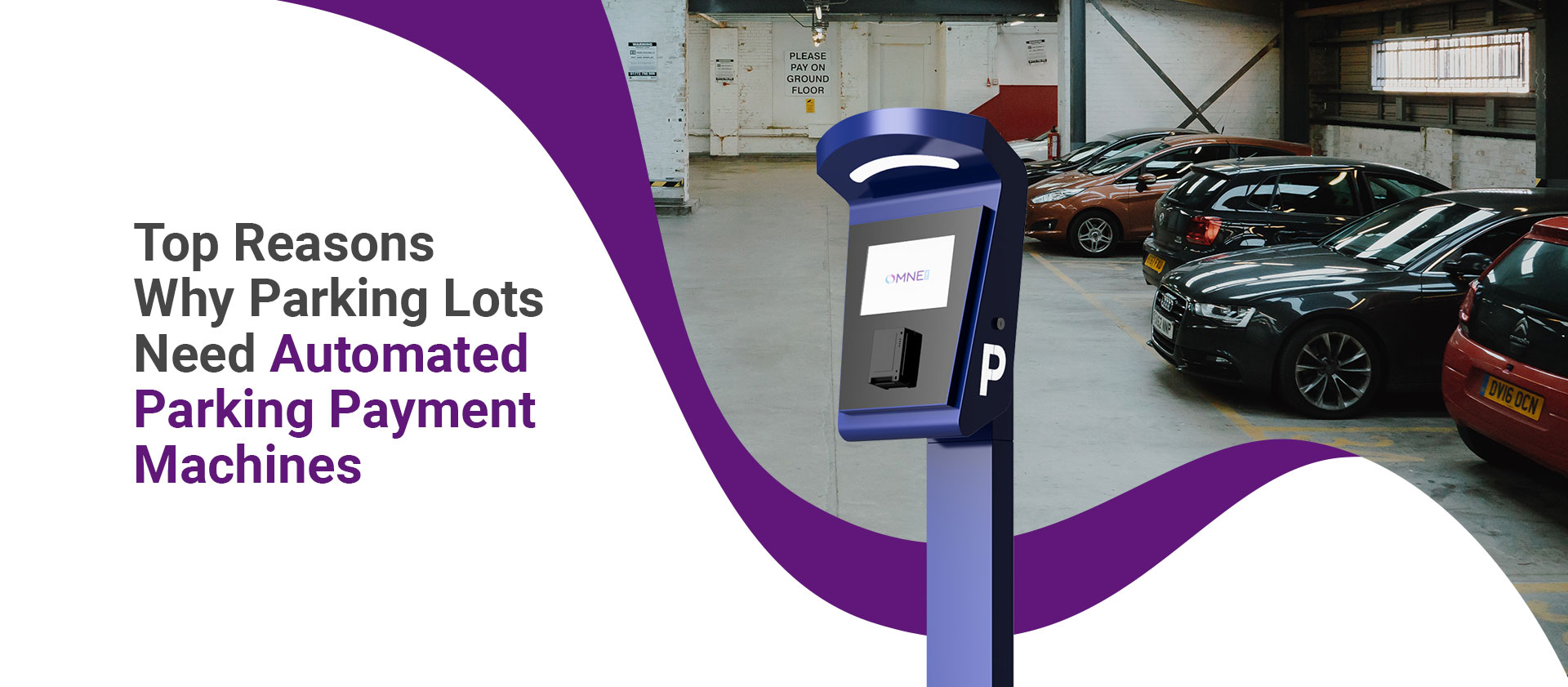 These days, automated parking ticket machines are quickly becoming the preferred option for managing public and private parking facilities. These machines can accept real-time payments and offer greater flexibility when monitoring who has paid for parking and collecting payments. Rather than having an attendant remain stationed in a controlled parking area to collect payment as vehicles leave or customers needing to pay for their parking during their exit process, automated parking ticket machines make the transaction much more convenient, which is not only more cost-effective but also pretty efficient.
Parking kiosks have become the talk of the town, and they are benefiting the parking industry in multiple ways. However, many parking lot owners prefer following the traditional payment method. If you are also one of them, it's high time you read this piece of write-up. Moreover, here are the top reasons why parking spaces should include innovative parking ticket machine.
Ameliorate Your Parking Revenue
Automated parking ticket machines allow for real-time revenue reconciliation since payment is made immediately upon usage. This eliminates the concern created by other access control methods like attendants or RFID/NFC, which can sometimes leave customers confused about whether they have paid at all. They provide an enhanced customer experience because shoppers know how much they will be paying upfront. You also don't need to give up any parking lot access hours on nights and weekends when no attendant or gate arm is present.
Nevertheless, customers who choose to use a parking kiosk find that they can pay with far more options than with other parking payment options. Customers can quickly pay with a credit card without wasting time signing for the transaction, and customers can also receive exact change on the spot. As well, most customers find the convenience of paying a specified amount immediately without having to wait for their payment to be processed by an attendant or as they are attempting to leave the area. This ultimately leads to increasing the revenue from parking as more and more people consider visiting parking spaces with a straightforward payment option.
Increase Efficiency
Parking payment kiosks are an essential part of any parking lot. There are many advantages for business owners and local governments looking to keep their lots organized and operating efficiently. Connecting to the Web allows parking payment kiosks to act on real-time information instantly from one central hub; these devices can adapt to whatever circumstances arise. Parking lot operators can also rely on kiosk data for customer service and marketing purposes and offer remote monitoring services and payment options at various points in the process. Modern parking ticket machines can also work with mobile apps and digital signage, improving your customer's experience; helping facilitate payments while reducing the need for human interaction altogether through contactless technology!
Nonetheless, parking kiosks are equipped with various innovative devices designed to limit vandalism, and these features also serve as a deterrent in the process. The parking ticket machines themselves are very sturdy – so much so that they avoid tampering at all costs, which is an added benefit. However, if an attempt at theft or vandalism is made, respondents can be immediately dispatched in order to keep watch over the situation. But in most cases, you will never have to worry about vandalism because these parking ticket machines are utterly secure!
Customer Convenience
Pay & Display machines are great for taking payments on-site and vouching for a space to park in. These machines take quite a bit of technology to run properly. Depending on the off-site system they are connected to, these connections need constant upkeep to stay secure so that no outside hackers can steal your credit card information. At their core, pay & display machines are meant to provide convenience for all customers alike who wish to quickly and easily enter and exit parking areas. The investment into Pay & Display machines means that you are taking your business to the next level of customer convenience.
Parking ticket machines are an excellent way for companies to save time and money in today's world. Customers using these machines find that they prefer them over the traditional method of paying at the parking cashiers stall. This is because it saves time and allows them to enjoy their shopping experience without making any extra stops during the visit to the store. What customers also notice about these machines is that their features are updated constantly to be able to offer new types of services and convenience for their growing needs.
Payment Accuracy
Drivers often get charged with an incorrect parking fee, primarily when the parking tickets are manually generated. On the other hand, a parking kiosk notifies the total fee a user will have to pay before leaving. It gives accurate details on how much the driver has to pay; therefore, there are no chances of them getting charged more than they should be. Such a device is usually based on where and for how long you parked your car or bike. Real-time management capability would automatically keep track of all amounts collected, which means more revenue generated, especially if you're running a car park or garage business!
Recently, with the advent of modern technology, we have seen innovative additions in the field of electronic and digital devices. In a way, you could say that parking ticket machines are one such device. When you own a car park and have installed parking kiosks, real-time management capabilities are beneficial for generating more revenue. Because customers can keep an eye on the amount of time they have left on their parking meter and view how much money must be paid before it expires and no more parking is permitted. This way, there will be no more incorrect payments, and your business will be more organized with less room for error.
The Bottom Line
The parking process is seamless for any business or government entity that decides to use automated parking machines. Parking machines essentially fall into two categories depending on the technology being used for a project. They are either an infrared parking payment machine that runs through a Pico server or equipped with remote monitoring and web-based servers to adjust boundaries when necessary. It may be challenging to choose between the two as there are benefits that come with both types of technology, but ultimately it all boils down to what you will be using your new machine's capabilities for.
Nevertheless, if you want to get high-end parking kiosks for your parking lot to ameliorate your customers' parking experience, consider reaching out to us. Omne Technology is a leading parking payment machine manufacturing company in the UK. We are currently offering two parking ticket machines; Smart Pay Kiosks & Mini Smart Pay Kiosks. We have integrated our devices with advanced technology and made them utterly vandalism free. With our parking kiosks, you will not have to worry about the transactions. They are very accurate & secure.
Please consider getting in touch with Omne Technology at 0121 318 8833 or email us at info@omnetechnology.com.
Get in Touch with Omne Technology
We at Omne Technology strive to provide motorists and parking space owners with smooth and seamless payment terminals. We have developed two parking kiosks to fulfil the needs of different parking spaces; Smart Pay Kiosk & Mini Smart Pay Kiosk. So, if you want to get robust and straightforward parking kiosks in the UK, consider contacting us at 0121 318 8833 or email at info@omnetechnology.com